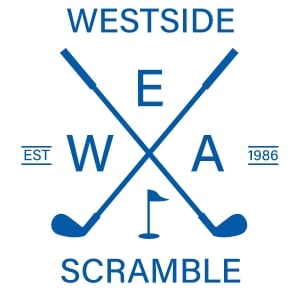 Thursday, July 27, 2023  |  12:30 pm start
The Reserve Vineyards and Golf Club  |  North Course
4805 SW 229th Avenue  |  Aloha, OR 97007
Join the Westside Economic Alliance for the 37th Annual Westside Scramble. The scramble format tournament (pick up at par) is a fun afternoon with 144 players and sponsors with some of the greatest games, competitions and prizes. Enjoy lots of food, drinks and camaraderie throughout the day.
Reach out to Dani
2024 Info  |  Sponsorship  |  Committee  |  Team Registration
Each Year the Westside Scramble has a Theme!
Dress like it is 1986 to celebrate 37 years of the Westside Scramble.
Make a quick pitstop to Party City, Goodwill or your favorite party store to decorate your cart and add some neone to your golf wear to win prizes for your creativity.
For some fun inspiration, check out our 80's Theme Idea Board on Pinterest.
 Westside Scramble Schedule
10:30 am           Drop your bag at Player Services at the Main Entrance
Player Check In at the Downstairs Pavilion
Let us know you have arrived! Individual Player Check In and Receive Beverage Tickets for the On-Course Beverage Carts
Golf Carts sponsored by Jacobs will be staged with your clubs.
Download Golf Genius in the Google play store or Apple App store – the GGID will be provided when you arrive – you can watch the leaderboard all day!
Team Positions and Starting Holes will be sent tomorrow – end of day on Wednesday, July 26.
11:00 am           Grab Your Box Lunches – thanks to David Evans & Associates and Perlo Construction
Under the Pavilion
Purchase Mulligans – $10 each and one (1) per player.
Purchase Tickets for the Sunriver Trip sponsored by PacTrust – $10 each. Available for sale all day. Drawing at dinner – you do not need to be present to win.
Check out the drawing prizes – all players receive an entry to the drawing at the end of the day with fun swag, apparel and other golf related items – winners announced at the end of play           .
Clubhouse Contests presented by Crystal Greens Landscaping on the Practice Green
Win a Yeti cooler from Crystal Greens – stop by their game station!
60' Long Putt sponsored by Felton Properties (no cost).
Challenging Chip Contest sponsored by Umpqua Bank (no cost).
Meet and Greet some of our Westside Elected Officials!
12:15 pm           Announcements
Get ready to head to your carts.
Drive to starting Holes.
12:30 pm           Westside Scramble Start
On-Course Promotions and Hospitality
Bar Carts sponsored by 3J Consulting, KGIP, Skanska and Millenium Building Services – each player receives 3 tickets; cash bar after
Hospitality Stations sponsored by AKS Engineering & Forestry, LRS Architects and Jordan Ramis
Hydration Station sponsored by Walsh Construction
Bottled Water provided by Celebrate Catering
Team Photos sponsored by Hathaway Larson
First Aid Station sponsored by Kaiser Permanente
Perlo Construction's swag giveaway
Stantec's Marshmallow Skills Challenge
Deacon's swag giveaway
Text your candid photos to WEA – phone number provided on Thursday
On-Course Contests
$10,000 Hole in One sponsored by Columbia Pacific Building Trades Council
One shot to win $10,000 with a 50/50 split to the winner and charity of choice.
You have a chance at four other hole in one prizes around the course.
KP and LD Winners Receive Dick's Sporting Goods Gift Cards
Two LDs and Two KPs for Men and Women
5:30 pm After Play
Finalize your score cards
Head to the Pavilion for an end of play drink sponsored by Scott Edwards Architecture (ticket provided in Player envelope). Cash bar after.
Enjoy Dinner thanks to Otak and Robinson Construction.
Award Announcements for Top Finishing Teams and On-Course Contests.
Awards for the best of the 80s chosen by WEA volunteers.
PacTrust SunRiver Drawing Winner Announced.
Team Photos will be available digitally in early August.
Weather Forecast
It looks like a beautiful day with temperatures in the low 80s. We will have sunblock available and plenty of water on the course.
Dress Code
Proper golf attire is required. Tank tops, short shorts, gym shorts, or denim of any kind are not allowed. No metal spikes.
Oct 12, 2023
Tualatin Valley Fire & Rescue
Joint Committee Meeting with Home Building Association of Greater Portland
Event Details
Nov 07, 2023
Northwest Natural
WEA 25th Anniversary Celebration
Event Details